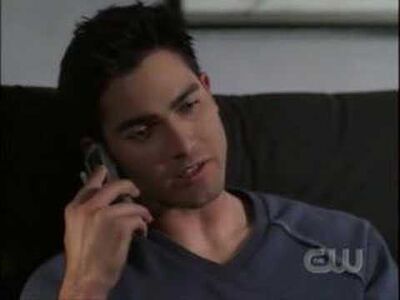 "Some Break Ups and Some Get Togethers" was the nineteenth episode of the 11th season of 7th Heaven. On its original airing, the episode scored a x.xx million viewers.
The entire family develops sympathy for Ruthie after Mac breaks up with Ruthie - for T-Bone - in a text message but accidentally sends it to everyone on his phone list. While somewhat relived, Eric worries that T-Bone will reveal to Ruthie that he somewhat gave T-Bone "permission" to breakup with her if that is what felt right. Meanwhile, Mac upsets Margaret when he uses the paper she wrote for him in his English class. Captain Michaels reveals to Kevin that he has been named Chief of Police and reoffers him his job back at the Glenoak PD. Despite to offer, and to Lucy's indirect disapproval, Kevin tells Lucy that he still wants to accept their job offers in Crossroads. Finally, Jane and Martin have a "phone date", but Martin seems surprisingly shocked when he learns that he was left out of the loop. The next day, Ruthie surprises everyone when she says that Martin drove down from college to see her.
Jason Priestly took the directing credit for this episode.
Christopher Michael reprises his role as Captain - now Chief - Michaels for the first time since the season 10 episode Got MLK?.
Sandy seems surprised that Lucy didn't tell her about the Crossroads job offer but - in the previous episode - she told Mac that she heard about it.
Final episode to feaure Christopher Michael as recently-promoted Chief Michaels. This was the third promotion he had received throughout the series' run - to Detective in season 6, to Captain in season 8, and to Chief in season 11. His first name was never revealed.
Featured in the opening credits are:

Stephen Collins
Catherine Hicks
Beverley Mitchell
Mackenzie Rosman
Nikolas/Lorenzo Brino
George Stults
Tyler Hoechlin
Haylie Duff


Community content is available under
CC-BY-SA
unless otherwise noted.