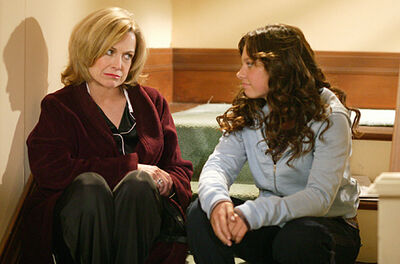 "Small Miracles" was the seventeenth episode of the 11th season of 7th Heaven. On its original airing, the episode scored a series low 2.15 million viewers.
When a frantic Ruthie loses the tiny diamond from the promise ring that T-Bone gave her, she takes it as a sign that maybe they shouldn't be together and enlists the entire household to search for the missing stone. Meanwhile, Eric and Lucy independently come across a mysterious black bird and interpret it as a sign of bad things to come, with regard to health and a job offer, respectively. Finally, after running into Mac at the movie theater, Jonathan tells Sandy that he has strong feelings for her.
Tyler Hoechlin does not appear in this episode.
After 11 years, this episode was the lowest rated of the series with only 2.15 million viewers.
This was the first episode to air, following the news that 7th Heaven was cancelled.
Featured in the opening credits are:

Stephen Collins
Catherine Hicks
Beverley Mitchell
Mackenzie Rosman
Nikolas/Lorenzo Brino
George Stults
Haylie Duff


Community content is available under
CC-BY-SA
unless otherwise noted.