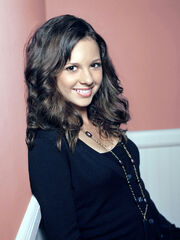 Ruthie Camden born 1987 is the (portrayed by MacKenzie Rosman)
Ruthie is Reverend Eric Camden and Annie Camden,named after her grandmother Ruth.She attends the Glen Oak Community Church,which her father's church.During her youth she was portrayed as the family sneak (usually known far more than everyone else in the house due to her ability to be in right place at the night).Ruthie has always been portrayed as mature for her age.Ruthie is known for her many boyfriends in the later seasons. She met a boy at school named Martin Brewer.
Ruth "Ruthie" Camden (played by MacKenzie Rosman) is the youngest daughter. She is named after her paternal grandmother.During her youth she is portrayed as the rather precocious family sneak. She ages rapidly over the show's run, beginning pre-Kindergarten during the first season and ending the series graduating a year early at age 17. She dislikes being called Ruth, even insisting that teachers call her Ruthie. She and Simon have lots of fun together as children, and become very close as they moved toward maturity.She is Simon little sister.Ruthie is the only one to briefly attend a private school, but she leaves it in protest that her friend Yasmine is being denied admission because she is a Muslim. During her freshman year she develops feelings for Camden house guest Martin Brewer and even tells him she loves him.In her sophomore year of high school she slathers on makeup and dates older boys in the hope that this would lead to a relationship with Martin; she veers toward self-centeredness and superficiality and seems to drop female friends in favor of male friends during her teen years. After her graduation, she joins the whole family, plus Martin and the other current Camden house guests, for an RV road trip that includes a stop at Simon's college graduation.
Annie Camden (mother)
Eric Camden (father)
Siblings
Matthew "Matt" Camden (Brother)
Mary Camden-Rivera (Sister)
Lucy Camden-Kinkirk (Sister)
Simon Camden (Brother)
Sam & David Camden (Brothers)
Community content is available under
CC-BY-SA
unless otherwise noted.