Jurassic World: Dominion Dominates Fandom Wikis - The Loop
Play Sound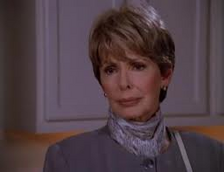 Ruth Camden, commonly referred to as Grandma Ruth, is Eric's mother and the Camden children's grandmother. She is the Colonel's wife and also served in the military.
Series
[
]
Ruth shows up with her husband in Season 1 episode 14, Seven is Enough. She is equally critical and strikes terror in the family. Her relationship with Eric is not as strong, though, stronger than Eric's relationship with his dad. She does not cry easily, however, does show emotion when Eric reveals that neither she nor the Colonel are fit for raising an orphan named George, not realizing that she wasn't a supportive enough mother. She tends to lighten up after she and her husband adopt George. She returns later on in season one in the episode It's All About George battling his birth dad for custody. When Eric sides against them, she slaps him, but quickly apologizes and leaves, then blames her visiting daughter, Julie, for everything. Annie then interferes, telling her to back off. After a compromise is made, Ruth gets back on good terms with her children.
Ruth pays a surprise visit with her husband in the season two finale episode ...And Girlfriends, and seems to have mellowed a little. She returns with her husband after six months, and is shown with her two newest grandchildren. Eric dreads telling his parents about Julie being married with a baby, but turns out that they are fine with it. After he has a heart attack, George questions their ability to take care of him because they're much older. Both assure him they're fine, and taking care of a teenager keeps them young.
Somewhere along the way in season five, Mary is sent to live with the Colonel and Ruth. Ruth makes her appearance in the 100th Episode when Eric calls their home. By this point, her hair has grayed a little. She avoids talking to him, and George answers only to tell him Mary left back to Glen Oak. In season six, she is shown attending Matt's wedding, and has aged even more over the years. She stays at the hotel while her husband talks to Eric about his situation with Matt. In season 7, after Eric's father supposedly sends a housekeeper to his home to help out, Annie calls Ruth about her. Ruth assures her that she has nothing to worry about, as she won't be there for long. Ruth goes onto appear in season 10, seeing her great-granddaughter(Lucy's daughter), and once again appears to look much older, have grown her hair out longer and gained more wrinkles. She and the Colonel inform Eric and Annie about Mary's whereabouts.
Appearances
[
]
Episode 14 Seven is Enough
Episode 19 It's About George
Episode 44 [...[And Girlfriends]]
Episode 67 The Tattle Tale Heart
Episode 95 Bye (mentioned)
Episode 100 One Hundred
Episode 132 Holy War Part 2
Episode Gabriel Come Blow Your Horn
Episode 201 Home Run
Episode 236 Tit for Tat
Episode 243 And Away We Go (mentioned)