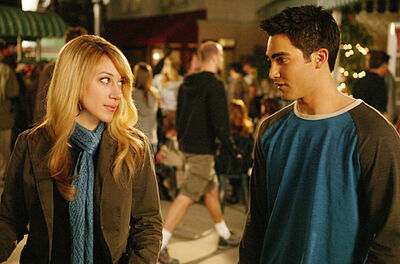 "Inked" was the eighteenth episode of the 11th season of 7th Heaven. On its original airing, the episode scored a 2.80 million viewers.
Lucy and Kevin fly to Crossroads, a small town in the middle of nowhere, to investigate a job opening for a minister. Once there, Kevin is also offered the opportunity to return to law enforcement as the town's sheriff. Back in Glenoak, Ruthie mistakenly assumes that Eric and Annie (or T-Bone) will pay for her tattoo removal, yielding Eric to finally let her have it and force her to get a job. Margaret decides to write Mac's paper for him, once she finally decides that she has feelings for him. While they share a kiss, Martin and Jane do as well, only after Sandy catches him lying about being unable to babysit Aaron.
Kevin tells citizens of Crossroads that he didn't graduate from college, but in Monkey Business, Kevin told Mary's pilot boyfriend, Jack, that he got his associates degree then joined the force.
Featured in the opening credits are:

Stephen Collins
Catherine Hicks
Beverley Mitchell
Mackenzie Rosman
Nikolas/Lorenzo Brino
George Stults
Tyler Hoechlin
Haylie Duff


Community content is available under
CC-BY-SA
unless otherwise noted.