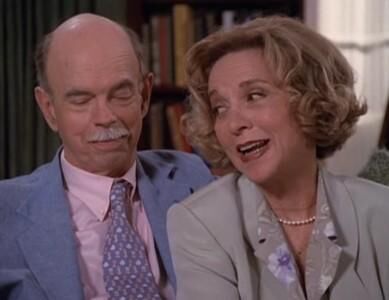 Dangerous Liaisons (Part 1) is the twenty-first episode of the first season of 7th Heaven. It aired on May 12th, 1997. It aired after Say Good-Bye and before Dangerous Liaisons (Part 2).
Playing in the park with cute little Billy, handsome student Wilson West meets Mary and both get butterflies. Wilson's impeccable charm, doctor-mother and record pass even Eric's paranoid muster but on Sunday he divulges that Billy is not kid brother but his own son. Meanwhile, at the airport to pick up maternal grandpa Charles Jackson, Matt is smitten at first sight on a girl he later traces and learns is deaf Heather Cain. They go out on a date but she flees the party after some youths make fun of her sign-language. Elsewhere, Eric and the kids welcome grandpa's new 'significant friend' Ginger but Annie irrationally rages against any suggestion a successor for her mother could be less then diabolic.
Community content is available under
CC-BY-SA
unless otherwise noted.