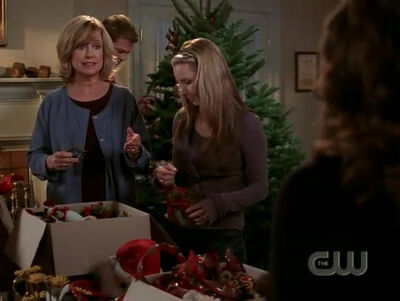 Christmas!
Season 11, Episode 11
Air date
December 10, 2006
Written by
Elaine Arata & Brenda Hampton
Directed by
Keith Truesdell
Episode Guide
previous


You Don't Know What You've Got 'Til He's Gone

next
Can I Just Get Something to Eat
"Christmas!" was the eleventh episode of the 11th season of 7th Heaven. On its original airing, the episode scored 4.39 million viewers.
Plot
[
]
While putting up the Christmas decorations, Lucy, Kevin, Ruthie, Sam and David panic when Eric is running late from work. However Annie keeps the faith and tries to assure everyone that he is fine. Eric, meanwhile, finds himself in "heaven" following a scare in the church parking lot where he is greeted by Grandma Jenny and meets merchants who offer special gifts for all seven children. But, is Eric a permament resident of this magical place or is he just visiting?
Notes
[
]
Trivia
[
]
This was the third Christmas episode of the show. The others were in the seasons 3 and 10.
Although this is her fifth episode since returning to the show, it is the first time that Mackenzie Rosman (Ruthie) had a scene with George Stults (Kevin) since last season's finale.
Final appearance of (Alice Hirson) Jenny Jackson.
Opening Credits
[
]
Featured in the opening credits are:
Music
[
]
Various holiday music is sung by a "heavenly" choir, including I'll Be Home for Christmas, Deck the Halls, God Rest Ye Merry Gentlemen, O Come All Ye Faithful and Joy to the World.