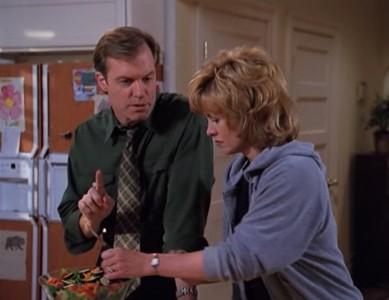 Choices is the seventeenth episode of the first season of 7th Heaven. It aired on April 14th, 1997. It aired after Brave New World and before Faith, Hope and the Bottom Line.
Summary
[
]
Eric's former 'apprentice preacher' Tom Harrison arrives unannounced, accepts to stay with the Camdens but is told the church can't afford an assistant.
Meanwhile, Simon hears raising pets can earn well, but is suckered into buying a pair of ferrets, illegal in the state, and fails to keep them in check, failing proper instructions from the dodgy vendor.
Elsewhere, Mary stupidly befriends party-animal Camille, a new schoolmate, who shoplifts a dress for her and convinces her to sneak out to a frat party.
Also, Lucy, who took Tom's cue to compare religions before joining Eric's confirmation course, covers for 'big' sister and Matt must come rescue her.
And finally, Eric's suspicions about Tom are disproved spectacularly.