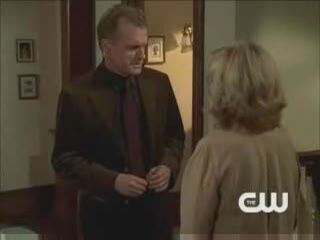 "Can I Just Get Something to Eat" was the twelvth episode of the 11th season of 7th Heaven. On its original airing, the episode scored 3.13 million viewers.
Plot
[
]
When Ruthie and T-Bone are given a writing assignment on the genocide in Darfur, the topic inspires the Camdens to help make a difference in the world. Unbeknownst to Eric and Annie, Ruthie makes a plea to the church to consider donating money to Darfur. Lucy and Sandy discuss the topic with their teen group, hoping to come up with some useful ways the community can lend their help. Lucy and Kevin decide to donate their bulk food to a local shelter and make a donation to Darfur as well. Lastly, Sam and David contact their friend, Nicodemus, one of the Lost Boys from Sudan, who helps them send the 50 dollars they've saved to friends in Darfur.
Notes
[
]
Tyler Hoechlin (Martin) does not apepar in this episode.
The episode ends with various clips of the Darfur crisis.
Trivia
[
]
Opening Credits
[
]
Featured in the opening credits are:

Stephen Collins
Catherine Hicks
Beverley Mitchell
Mackenzie Rosman
Nikolas/Lorenzo Brino
George Stults
Haylie Duff


Music
[
]
Waiting on the World to Change by

John Mayer

.
External links
[
]